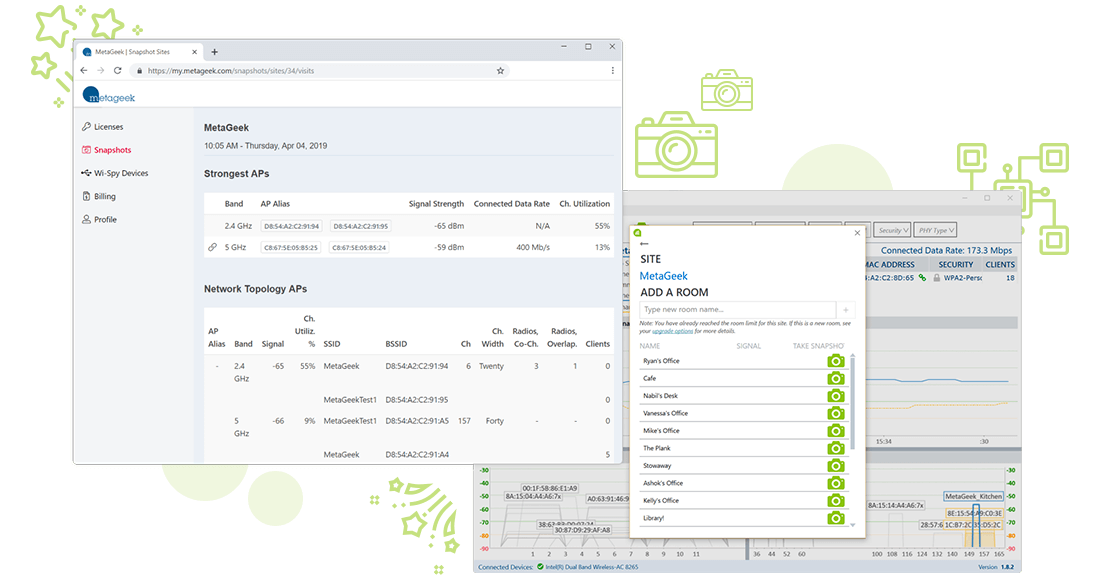 Have you ever fired up inSSIDer and wondered which networks are new? If your WiFi worked yesterday and is struggling today, do you know what's changed?
Getting answers to these questions is why inSSIDer now offers Network Snapshots. Whether you're taking room-by-room snapshots or tracking changes over time, Network Snapshots with inSSIDer give you the insight you need for lightning speed.
Interference can be a huge drag to your WiFi speeds. inSSIDer can help you avoid interference with other networks, and sometimes you also need to deal with RF interference from non-WiFi devices. Luckily, Wi-Spy can see ALL types of interference, and it works with inSSIDer to give you information about those pesky non-WiFi interferers.
When you need in-depth WiFi analysis, inSSIDer can launch Eye P.A. to capture all packets — even AC1900 data rates — and make them visible for quick analysis and diagnosis. At a glance, you can find and fix packet loss, monitor channel capacity, and minimize congestion.
Wi-Spy and Eye P.A. are part of the MetaGeek Complete package for WiFi experts. Learn More