Step 2 – Only use channels 1, 6, and 11
In 2.4 GHz the channels are numbered funny. WiFi networks need at least 20 MHz channel width, but channels are numbered every 5 MHz, which means that channel 1 overlaps with channels 2, 3, and 4. With overlapping channels WiFi devices cannot understand each other and cannot cooperate to determine who should talk next, so WiFi devices on overlapping channels end up trying to talk at the same time, which garbles the transmissions from both devices. Notice in the screenshot below how the network centered on Channel 3 overlas with the networks on channel 1 and channel 6.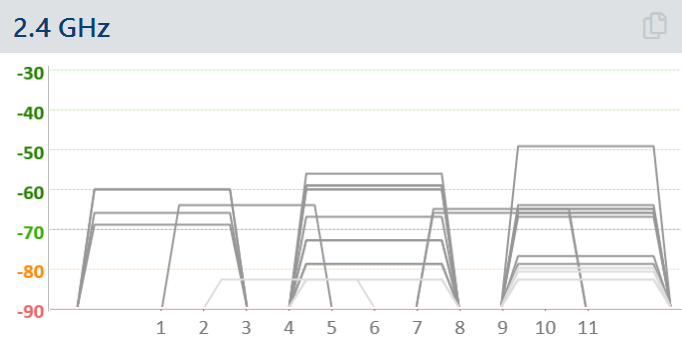 Overlapping channels is the biggest cause of poor performance in the 2.4 GHz band and it will not only cause your WiFi to have poor performance, it will impact all the WiFi networks on the channels that your WiFi overlaps with.
In the United States it is best practice to ONLY use channels 1, 6 and 11, because these channels don't overlap. In Europe, Asia, and other countries that have channels 12 and 13, it is best practice to use channels 1, 5, 9, and 13. Sometimes the U.S. practice of 1, 6, and 11 is used outside the United States, so if channels 12 and 13 are available in your country, use your best judgment as to which set of standard channels is being used in your WiFi environment - either 1,6, and 11 or 1, 5, 9, and 13.
If you are using any other channel number (e.g. channel 2) then you should stop right now and change the channel to a standard channel.