Announcing the new inSSIDer Office
Following a successful Beta period, today marks the official release of the new inSSIDer Office!
Tags
InSSIDer
Product Release
Software
Following a successful Beta period, today marks the official release of the new inSSIDer Office!
This new version of inSSIDer Office includes everything you love about inSSIDer 4 along with enhancements that ease the pains of small network administration. A full feature comparison table can be found in our Knowledge Base.
In just this screenshot you can see some of the updated features:
Simultaneous 2.4 GHz & 5 GHz spectrum analysis when using Wi-Spy DBx
Radio aliasing for all networks in your area (No more memorizing MAC addresses!)
In-line analysis for your ESSID (No more switching back and forth to see the tips)
Signal threshold (the dashed line across the graphs) that provides you a visual guide as well as informing in-app alerts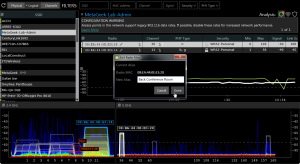 "Which AP has the radio ending in E3:2X again?"
Another major rework in the new inSSIDer Office is the Channels View. Powered by Wi-Spy, this view provides you with statistics on a channel-by-channel basis that help you plan for deployment changes to your network, as well as gain understanding to your current performance. In this screenshot, the solid yellow chart shows us the utilization on Channel 1. The spectrum graph at the bottom shows a spike centered near Channel 1 that corroborates this finding (Wi-Spy measurements range from dark blue for "infrequent" up to bright red for "constant" utilization).
High channel utilization isn't necessarily a bad thing, but it is definitely something you need to know about as you assess your network performance.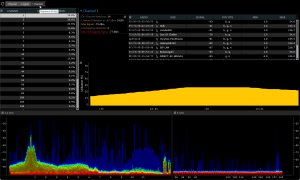 Bigger isn't always better
Find out more about the new inSSIDer Office and request a trial at www.inssider.com.
Until next time,
-Taylor
Get reliable Wi-Fi at home without needing to be a Wi-Fi expert.
Subscribe to Signifi Personal.
Wi-Fi Education & Help
If you're ready to take control of your Wi-Fi and make it feel like magic for your users, we are here to help.
The Real-Time Wi-Fi Packet Analyzer
"Tonic has fast become a must have tool for me."
Dan Jones
Maven Consultancy
"Tonic is packet analysis for the masses."
Chris Reed