Coming Soon to Air Viewer – Network Snapshots!
To truly master your WiFi, you need to have a handle on not just what the network looks like at this very second, but how the configuration looks over time.
Tags
WiFi connectivity issues are going to happen at inconvenient times, regardless of whether or not you have your laptop handy. That's the magic of Wi-Spy Air and Air Viewer: it brings mobile troubleshooting to iOS and Android.
But real-time spectrum and network analysis is just the first step in WLAN troubleshooting. To truly master your WiFi, you need to have a handle on not just what the network looks like at this very second, but how the configuration looks over time. You need to be able to answer questions like:
Has the WiFi environment changed?
Did someone else tweak a config setting?
Did everyone at work buy iPads with their quarterly bonus and bring them all in this week to stream the last season of Game of Thrones on the office WiFi read wholesome business books related to their professional development?
Did a new tenant move into the suite next to you and immediately crank their AP on channel 3 up to max power?
Trying to stay on top of these environmental and capacity changes can feel a bit like playing whack-a-mole. You do the best you can, but things change over time, and it's hard to know which changes are having which impacts on your network. You need to know when a new thing pops up so you can make adjustments.
Solving this pain is exactly why we are developing Network Snapshots for Wi-Spy Air / Air Viewer.
You may have already started collecting Network Snapshots from the inSSIDer desktop app and started building your library in your cloud account at my.metageek.com. Snapshots using Air Viewer will work the same way. The feature hasn't been released to the public yet, but I stole some mockups from the Product Team (muah ha ha 😈) so I could show you what you can expect:
---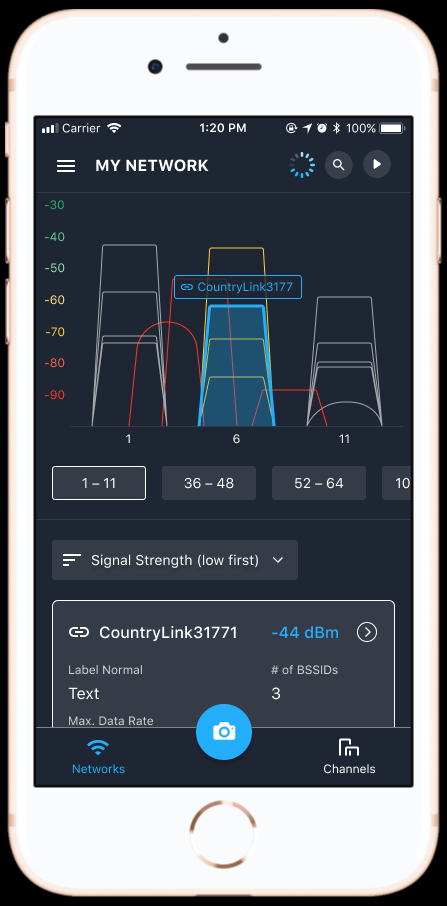 Similar to taking snapshots in inSSIDer, you'll tap the camera icon to start the snapshot.
---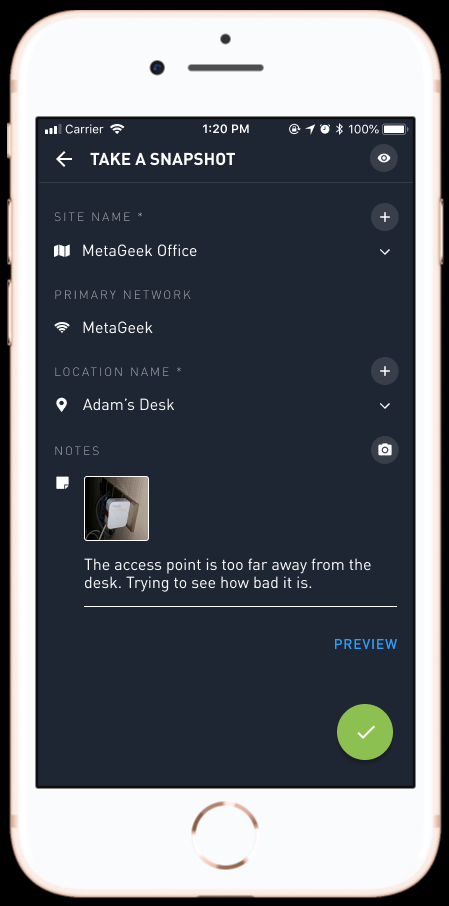 Add your Site and Room Name, and select your connected network from the list. You can optionally add text and photo notes about the snapshot you're about to take, such as "this is during lunch hour in the break room" or "changed config settings on the Cisco AP in the South hallway".
Adding notes is going to be really helpful in contextualizing snapshots. Notes will help jog your memory about a snapshot later on, or provide important context when you're sharing snapshots with your team who may not have been on-site with you when you took the snapshot.
---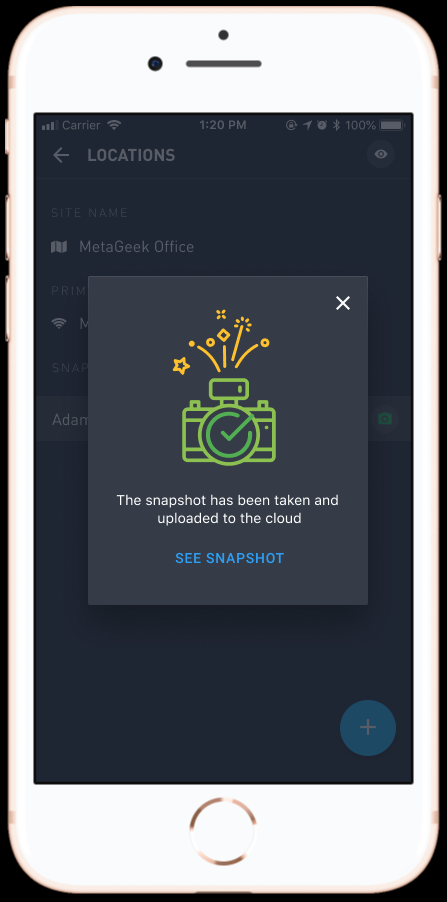 Take your snapshot, and send it to your cloud account.
---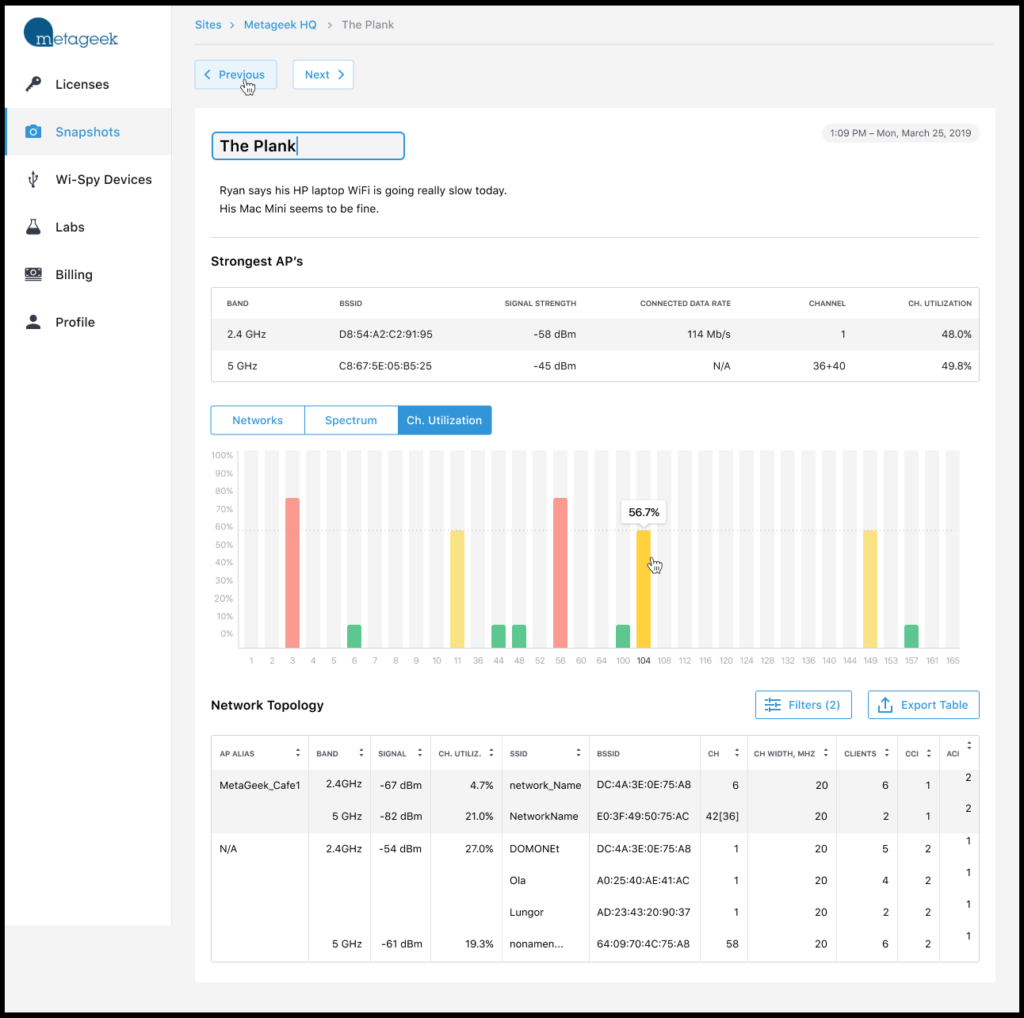 See your snapshots at my.metageek.com.
The power of Network Snapshots lies in building up a library of snapshots over time, so you can keep tabs on how the network environment or configuration can change and how that affects connectivity.
---
With Snapshots in Air Viewer, taking snapshots regularly is a piece of cake, because the only tools you'll need to have handy are a tiny dongle (Wi-Spy Air) and something you have with you all the time anyway– your smartphone.
The Network Snapshots feature in Air Viewer is currently in development and expected to ship in July. Questions, comments, feedback, or want to get on the beta list? Let us know in the comments!
Get reliable WiFi at home without needing to be a wifi expert.
Subscribe to Signifi Personal.
WiFi Education & Help
If you're ready to take control of your WiFi and make it feel like magic for your users, we are here to help.