inSSIDer 5.1 Improves Real-Time Packet Analytics
inSSIDer 5, the first application to ever combine Wi-Fi scanning with packet capture and RF spectrum analysis, is becoming even more powerful and awesome! Announcing inSSIDer 5.1
Tags
inSSIDer 5, the first application to ever combine Wi-Fi scanning with packet capture and RF spectrum analysis, is becoming even more powerful and awesome! Announcing inSSIDer 5.1 with:
All Clients View
Packet Transmission Details, and
Enhanced Client Traffic Analytics
To take advantage of the features in this inSSIDer update, you'll need either a MetaGeek Plus or MetaGeek Plus Pro plan.
#1: All Clients View
MetaGeek Plus Pro
Along with Networks and Channels Views, inSSIDer 5.1 now offers a Clients View. This view has three primary filters: All Connected Clients, Starred Network Clients, and Nearby Unassociated Clients.
All Connected Clients
Being able to see all the clients that are connected and active in all nearby networks is useful to observe top talkers on neighboring networks. The Filter Bar also works in the clients view allowing you to quickly filter by a specific SSID or even device vendor! Highlight a client in the table to see the Client Summary, including direct links to the associated SSID and access point.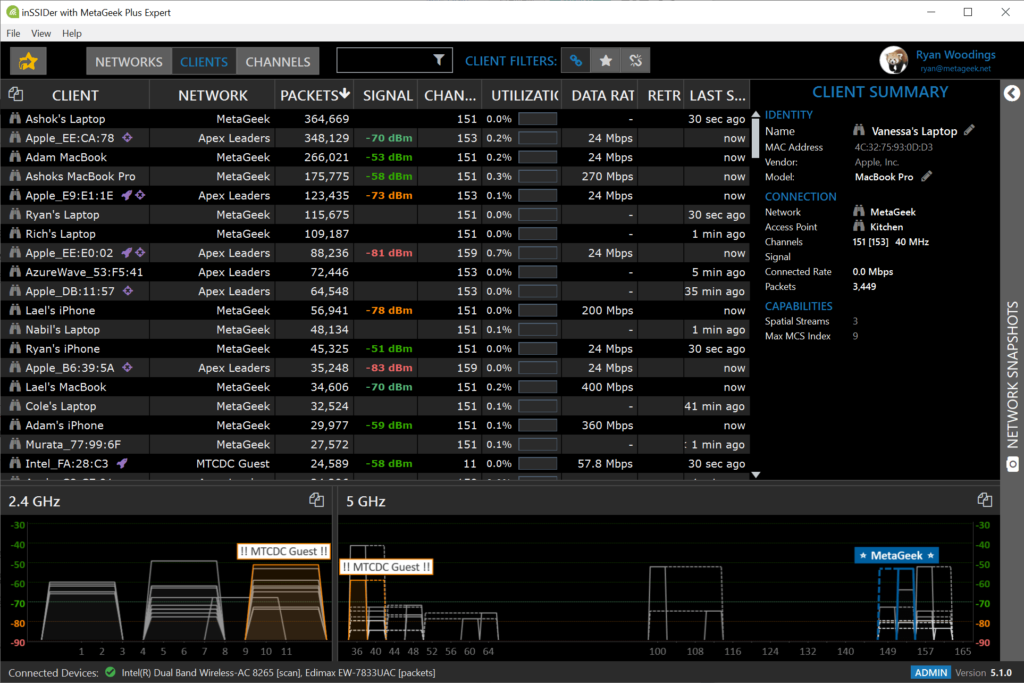 Table of all discovered clients that are connected to a network. Observe the Client Summary on the right with direct links to the Access Point and Network.
Starred Network Clients
Rather than drilling down into each access point on your network to see the list of connected clients you can now see an aggregated list of ALL the discovered clients on your network.
Nearby Unassociated Clients
Are there clients near you that are having difficulty connecting? Now you can see a list of these clients as well as Connection Activities (Probe, Association Request, Handshake). For unassociated clients the Client Summary also shows all channels the client has been seen on, what SSIDs have been probed, and what frame types the client has sent or received. This is helpful to see if the client is just sending wildcard probes for all networks, or is trying to connect to a specific network. It will also list EAPOL Handshake steps 1-4, so you can quickly determine if the client is having trouble establishing a secure connection.
#2: Packet Transmission Details
MetaGeek Plus MetaGeek Plus Pro
inSSIDer 5 is so much more than "just a Wi-Fi Scanner". Under the hood, inSSIDer 5 with MetaGeek Plus is capable of packet capture using a compatible 802.11ac 3×3 (or 2×2) Wi-Fi adapter. Prior to this release, inSSIDer 5 was aware of the data rate of each packet, but wasn't aware of the specific transmission details, such as MCS Index, Spatial Streams, Channel Width and Guard Interval. (P.S. – If you don't know what these mean, that's okay, because inSSIDer 5.1 now knows these details for every packet!) These details provide important information that inSSIDer uses to assess the quality of connection between the access point and client and the impact of the surrounding Wi-Fi environment.

Table of clients showing current MCS Index, Spatial Streams, and Channel Width
MCS Index
MCS stands for Modulation Coding Scheme and is a number between 0 and 9 with 9 being the highest modulation and coding and 0 being the lowest. In order to communicate at MCS Index 9 the client and access point must both be capable of MCS Index 9 (some devices are only capable of 0-7) and have a signal-to-noise ratio (SNR) of at least 31. The lower the MCS Index that is being used, the lower the SNR probably is.
Given that the RSSI of the received packet by inSSIDer is of the RSSI where inSSIDer is and not at either end of the actual conversation – the client or access point – the MCS Index is the BEST indication of the actual signal quality of the connection.
Spatial Streams
Most clients support 1-3 spatial streams with low end or older phones (like my iPhone SE) supporting one spatial stream and high end laptops supporting three spatial streams. Typically clients will use as many spatial streams as they support, so you won't see the spatial stream count of a connection vary too much. For a given channel width and MCS Index two spatial streams will have double the data rate of a single spatial stream and three spatial streams will have triple the data rate.
Channel Width
802.11ac networks can be configured to support 20, 40, 80, or 160 MHz wide channel, with a default "primary" 20 MHz channel. The primary channel is the channel that all beacons and other management frames are transmitted on. Use of the wider channel (40 or 80 MHz) is constantly negotiated. If an access point is configured to use a wide channel, and a client is only showing usage of a narrow channel this indicates that a neighboring network is active on the wider channel.
For more details about MCS Index, spatial streams, and channel widths check out this chart from WLAN Pros: https://www.wlanpros.com/resources/802-11n-and-802-11ac-mcs-snr-and-rssi-graphic/
#3: Enhanced Client Traffic Analytics
MetaGeek Plus Pro
For everyone that has seen Eye P.A.'s visual packet analysis and wished it could also display multi-layered pie charts for real-time packet capture, this version of inSSIDer will make you happy 🙂 For Pro subscribers inSSIDer 5.1 now shows a table of frame types and a multi-layered pie chart (treepie) in the Client View… Super cool!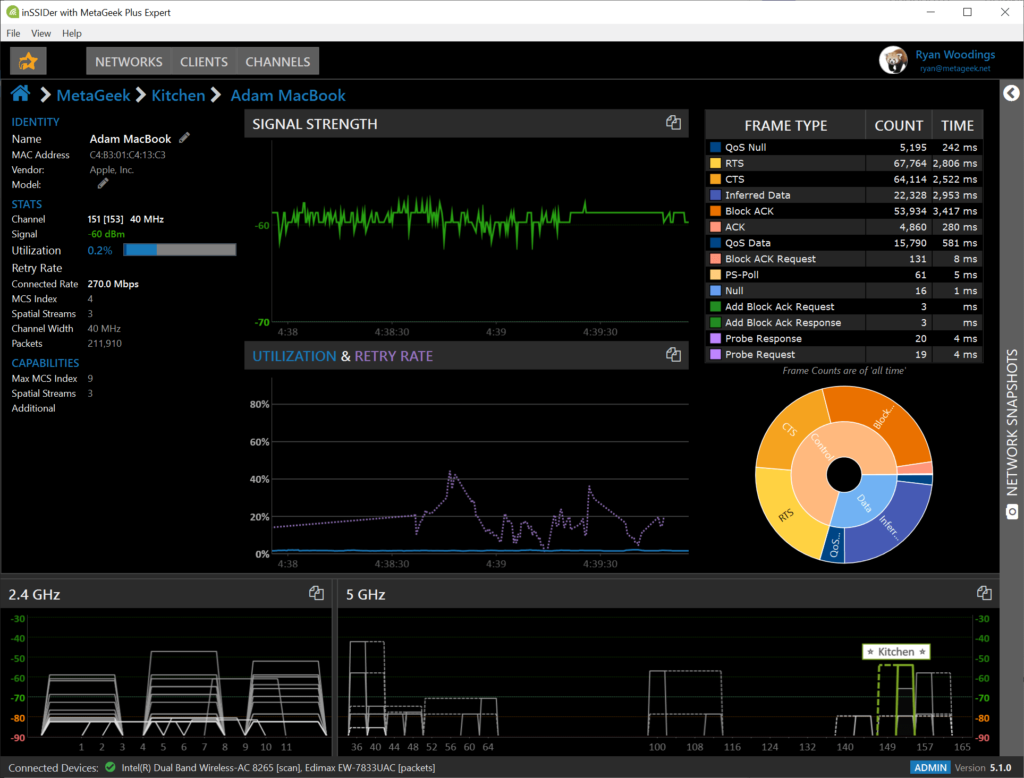 inSSIDer 5.1 showing Frame Types and Multi-Layered Pie Chart for Client Traffic Analytics
inSSIDer also parses deeper into Action frames to identify the specific Action that is being taken such as Beamforming Sounding Report. If inSSIDer is using a 2×2 Wi-Fi adapter for packet capture, it will not capture data packets sent on three spatial streams, so it uses the accompanying RTS, CTS, and Block Ack frames to infer a data packet.
Get reliable Wi-Fi at home without needing to be a Wi-Fi expert.
Subscribe to Signifi Personal.
Wi-Fi Education & Help
If you're ready to take control of your Wi-Fi and make it feel like magic for your users, we are here to help.
The Real-Time Wi-Fi Packet Analyzer
"Tonic has fast become a must have tool for me."
Dan Jones
Maven Consultancy
"Tonic is packet analysis for the masses."
Chris Reed