Aliasing Your Networks
The broadcasted SSID here at MetaGeek is "MetaGeek," naturally. Here is what the MetaGeek network with two APs and four radios looks like without AP Aliasing:

To make sure you know which networks are yours, you can alias them by selecting the first radio in Physical mode and clicking the pencil icon. These are now named "MetaGeek Trusted."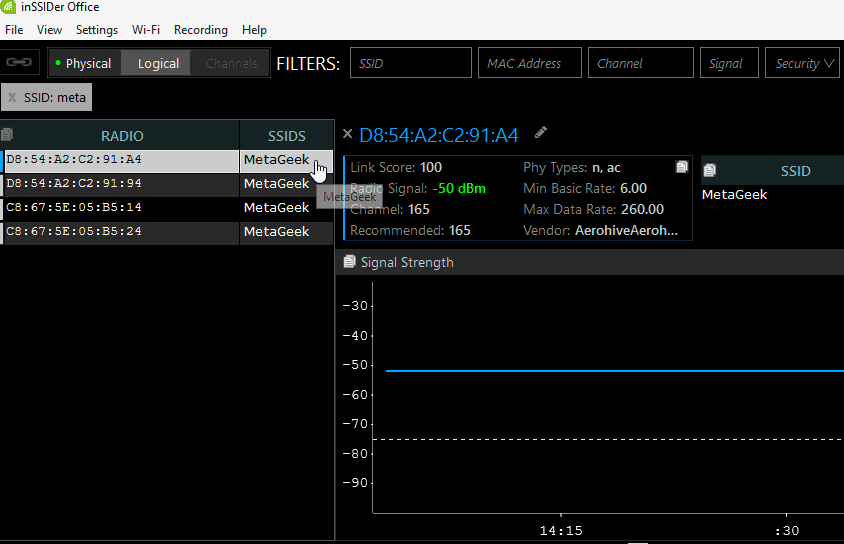 Here is what the final result look like. The four radios here at MetaGeek all have "Trusted" in their alias. (Keep in mind that inSSIDer Office and Chanalyzer can automatically pull aliases from Cisco AP beacons, which is handy for Cisco network admins)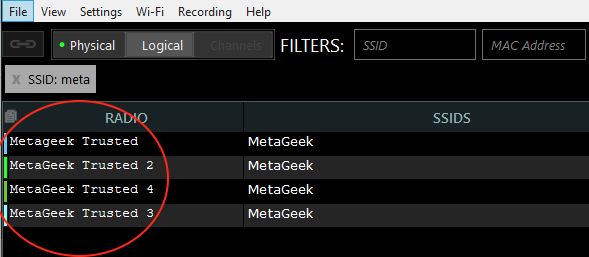 Check Your Work
Now, we can check our work by setting up a spoofed network with the MetaGeek SSID using a WiFi Pineapple, similar to what a hacker would try and do. This is how that looks in the Networks Table of Chanalyzer or inSSIDer Plus: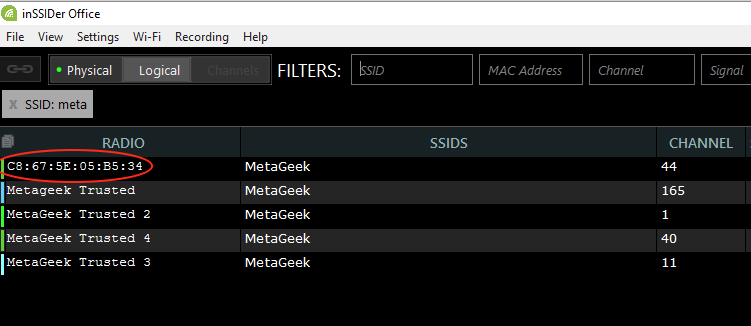 Notice how one radio still contains a MAC address instead of the "trusted" alias? That's the spoof one– you know that it is an imposter because it has not been aliased. If this were a real attack, you could track down the imposter AP by playing hot/cold with the signal strength level.
Now that you know how to alias your networks in Chanalyzer or inSSIDer Plus, you can easily determine which networks are safe and which networks are imposters, so you can protect yourself and others from man-in-the-middle attacks.
Next Lesson...
Dead Spots and Slow Zones