Client Traffic Analytics in MetaGeek tools bridge a (pretty wide) gap
If you have been following the recent happenings that we have been doing here at MetaGeek, you may have heard us throw around the phrase "Client Traffic Analytics" and are wondering exactly what we mean by that.
Tags
If you have been following the recent happenings that we have been doing here at MetaGeek, you may have heard us throw around the phrase "Client Traffic Analytics" and are wondering exactly what we mean by that.
MetaGeek Client Traffic Analysis
Client Traffic Analytics and inSSIDer updates we are currently working on
At a high level, Client Traffic Analytics means showing how a client is existing on a wireless network and in the airspace. Currently, Eye P.A. is our go-to-tool for showing Client Traffic Analytics. However, we feel that there is a pretty wide gap in our products, and in similar products, going from a Wi-Fi scanner showing beacon information to a pcap viewer (protocol analyzer) like Eye P.A. or WireShark to view client information.
To bridge this gap, we're working to bring more client information into our apps, especially Air Viewer, inSSIDer, and Rampart, so that users of these tools can detect client trouble makers quicker than ever before.
To go into more detail with Client Traffic Analytics (C.T.A. – another call to action! 😲) and what that looks like for MetaGeek tools – I see it manifesting in three major ways.
1: Break channel utilization down by AP and clients
Channel utilization is a data point that is increasingly being offered by APs via the QBSS information element. In tools such as Chanalyzer, we can also pretty easily calculate channel utilization based off of raw radio frequency energy. Knowing the total utilization of channels for channel planning is a great data point to have. However, when analyzing installed wireless networks, it leaves a lot of questions to be answered, like:
Is my network the heavier utilizer, or is a different network?
Within my network, which APs are utilizing the channel the most?
How are clients contributing to channel utilization?
These questions are what we are aiming to answer with Client Traffic Analytics.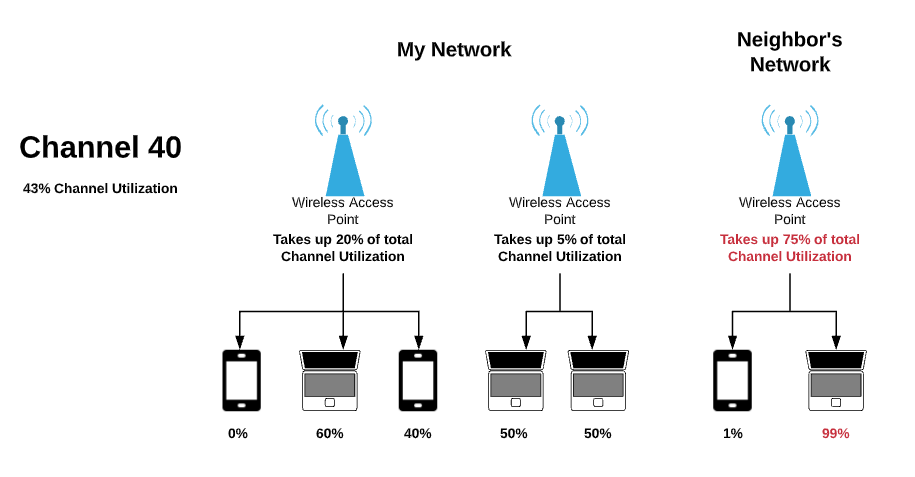 As shown in the illustration above, if you have a break down of devices contributing to the overall channel utilization, then you can quickly discover sources that are impacting your network. Having this visibility in your front-line tools lets you visualize the breakdown of utilization quickly so you can fix issues faster while minimizing the need to bring out the tools of last resort.
Currently, this breakdown of utilization is available today with Wi-Spy Air and Air Viewer and inSSIDer with a MetaGeek Plus or MetaGeek Plus Pro subscription.
2: Maximize wireless network performance by better understanding device limitations vs environmental limitations
With having more extensive data collection with Air Viewer and inSSIDer, plus a means to save that data to your Rampart account, we aim to bring wireless network insights to the forefront in ways that haven't been done before.
In the MFD4 video at the beginning of this post, Ryan discusses an ability to sniff what type of Wi-Fi device is talking, and the ability to assign a make/model to it. Centralizing this information in Rampart will allow Rampart to profile devices, discover their max potential capabilities, and see how they are actually performing in an environment to provide meaningful insights and recommendations to improve performance.
As opposed to providing generic tips for any ol' wireless environment, we want to provide customized recommendations based on device capabilities and the real environment they are operating in.
3: Capture events of interest (eg. client association and roaming)
When clients associate to a network, the association request is one of the few packets that provide the client capabilities. Being able to recognize and capture these events is paramount to gaining more insights into client behavior on a wireless network.
With inSSIDer, we are making improvements that will capture events such as association, roaming, beam-forming report, and spectrum power report. With inSSIDer's updated capabilities to put wireless adapters into packet capture mode, inSSIDer will make it easier and more convenient to capture roaming events in real-time and with far fewer adapters than what other methods currently demand.
Overall, our focus on bringing Client Traffic Analytics to our front-line apps will let you more quickly locate sources of issues at a granular level AND show you how you can improve network performance at holistic level to keep your network working at its fullest potential.
Are you excited about the new possibilities Client Traffic Analytics will provide you and have examples of how you might apply CTA to your work? Leave a comment below and tell us how! 👨‍🔬
Get reliable Wi-Fi at home without needing to be a Wi-Fi expert.
Subscribe to Signifi Personal.
Wi-Fi Education & Help
If you're ready to take control of your Wi-Fi and make it feel like magic for your users, we are here to help.
The Real-Time Wi-Fi Packet Analyzer
"Tonic has fast become a must have tool for me."
Dan Jones
Maven Consultancy
"Tonic is packet analysis for the masses."
Chris Reed